On 26th June thousands of us will gather at Westminster, central London, to call on our politicians to set the foundations for a brighter, greener and safer world. People across the globe are suffering from the effects of climate change and our wildlife populations are being wiped out. The time is now for MPs to end the UK's contribution to climate change and pass ambitious laws for nature's recovery on land and at sea. We simply don't have time to waste. Join us to show our politicians the way to a #WilderFuture.
Our wildlife needs your voice to be heard. 
The Wildlife Trusts along with other environmental organisations are partnering with The Climate Coalition for a mass lobby for climate, nature and people. Nature is in trouble and it needs our help to save it and stand up for it.  Strong environmental laws are needed to be in place to ensure a #WilderFuture and that nature is put into recovery. 
Staffordshire Wildlife Trust will be there at the Mass Lobby event along with representatives from other Wildlife Trusts. Sign up to attend on the map below, so that we know to see you there!
See the information under the map for more details about the day.
Our MPs are there to represent us, that is their job, so we need to tell them what we want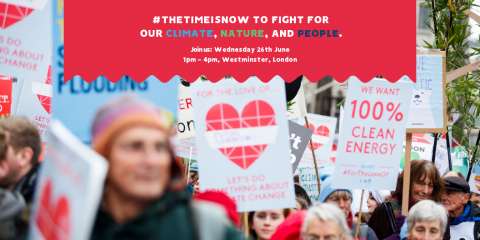 Information on the event
Why Now?

This summer we want to see the Government support a strong and ambitious Environment Act that protects and restores wildlife. We also want them to commit to a net zero emissions target.

Together we will call for strong laws to protect our climate, nature and people.
What will happen on the day?

Thousands will join an organised lobby line queuing around Westminster, separated by constituency and full of people keen to talk to their MPs about the environment.

1pm: The lobby begins. It may take a while to find your constituency's area, so please allow plenty of time and ensure you're in the lobby line by 1pm. There will be signposts for regions and constituencies — see the guide for more details.

2pm: Alarm clock moment! Whilst gathering in the lobby line, we're going to set off as many alarm clocks as possible. By doing so, we will send a message to Westminster that they need to wake up and respond to the challenges our beautiful world is facing. Bring a portable alarm clock from home or use your phone!

1-4pm: Meet your MPs around parliament. 10,000 of us will meet with our MPs in the streets around Parliament, all at the same time! 
How will I get there?

There are dedicated coaches coaches travelling from various points in the UK directly to the mass lobby, with the closest station being Birmingham, you can by tickets here. For those attending the lobby, the discount code CCL2019 will get you 25% off National Express coaches to Victoria Coach Station on the day.

We advise everyone to use public transport or car sharing where possible.

 
What will I do when I arrive?

If you are arriving by Tube there will be volunteers on hand to direct you to the lobby.

The lobby line is from the Houses of Parliament down to Lambeth Bridge and back along the other side of the river Thames. There will be signposts for regions and constituencies — see the lobby guide for details.
Organisations involved

Catholic Aid Agency (CAFOD), Christian Aid, Friends of the Earth, Greenpeace, RSPB, Tearfund, Oxfam, National Trust, Women's Institute (WI), WWF and The Woodland Trust
Further info
For more info on the event please download the guidebook below 
Can't make it?
If you can't make it then don't worry, as there are other ways to make your voice heard. We are asking people to share why they care about nature's recovery, so that we can hand deliver these personal messages to MPs over the summer and autumn. It's crucial as many of us make our voices heard as possible, as now is the time for our politicians to stand up for stronger environmental laws. Join us in taking action for a Wilder Future and help write the next chapter for our natural world today.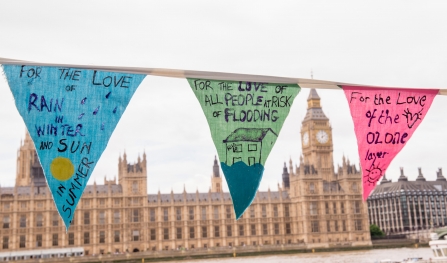 Getting involved
Once you have signed up to the event Staffordshire Wildlife Trust would love to hear that you are attending and why you want to attend. Please fill in the form below and keep us informed. Try and let us know by 11th June if you plan to attend but sign ups are open until the day of the event. 
We look forward to seeing you there!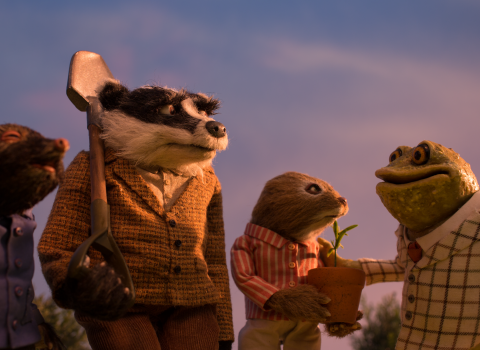 Help us create a Wilder Future
Wildlife is under threat and we need to act now to save it. Nature needs to be put into recovery to ensure a wilder future. Join our campaign for a Wilder Future and find out what simple actions you can do to save wildlife and wild places. 
Act now