Go wild at our After School Clubs!
Did you know that at Staffordshire Wildlife Trust we deliver after school clubs too? Staffordshire Wildlife Trust can come to your school and provide extra-curricular activities for your students.
There are 3 types of clubs we offer these are
Wild Child Club
Campfire Cookout Club
Forest Club
What is a Wild Child Club?
A Wild Child Club is an all outdoors club to encourage children to be a little bit wilder and discover enjoyment of being outdoors. The clubs are emphasised on free play, centred on a main theme, ranging from Wild Art or Wild Bugs to Wild Survival.
What is a Campfire Cookout Club?
Campfire Cookout Club is an all outdoors club to give children the opportunity to try cooking outdoors. Each week there will be a selection of free play activities and a different item to cook on the fire. Children will learn fire lighting and fire safety skills.
What is Forest Club?
Forest Club is an all outdoors club with a focus towards bushcraft activities such as whittling, den building and fire lighting.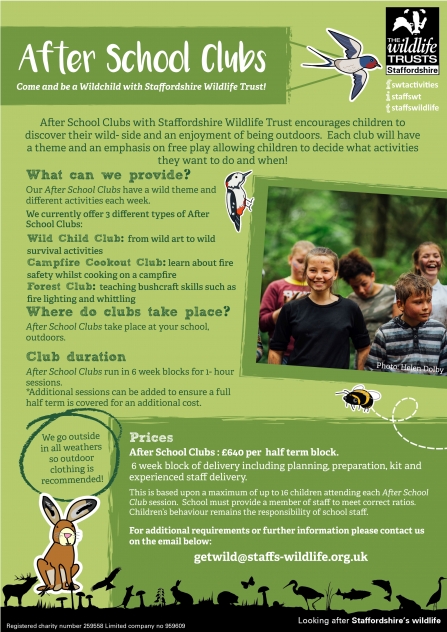 How long will the clubs run for?
The after school clubs run in 6 week blocks for 1 hour.
How many children can attend?
A maximum of up to 16 children (this is 1 member of Wildlife Trust staff and 1 member of school staff).
Where do the clubs take place?
The clubs take place at your school, on your school grounds, outdoors.
What is the cost?
For a 6 week block of sessions the total cost is £640.
This include a member of experienced Staffordshire Wildlife Trust staff to deliver the sessions, planning and preparation of the sessions, risk assessments and equipment and consumables.
What happens next?
If you would like further information about the after school provision we could provide your school with or would like to book with us please contact a.burrows@staffs.wildlife.org.uk or fill in the form below
We are happy to come and visit your school for a face to face meeting to!