Come and get wild with us!
Staffordshire Wildlife Trust promotes involvement, enjoyment and understanding of the natural world. 
From attending an event, having a go at surveying, to exploring volunteering opportunities, there are plenty of ways you can get wild and get involved with Staffordshire Wildlife Trust. 
There is something for everyone. We run events for young ones as little as 5 months to specialised adults only courses as well as lots of fun activities for all the family. 
We offer so many opportunities to get close to nature all over Staffordshire. So what are you waiting for? Come and get wild with us!
Find out more about ...
What we offer for families
We run a wide variety of activities to help families discover and learn more about the natural world around them. From Toddler Treks to minibeast hunting, we cater for different age groups and abilities - learn more on our family page
What we offer for young people (ages 12 - 21)
Staffordshire Wildlife Trust offers a variety of opportunities for young people - from exploring the landscape to getting involved in some practical conservation work. Find out more
What we offer for teachers and educators
Staffordshire Wildlife Trust offers lots of exciting opportunities for children to learn about the natural world - at our award-winning education centres, in your school or educational facility or out on a local nature reserve or park. See our teachers and educators page.
What we offer for adults
Want to learn more about the natural world, sign up for courses to learn countryside skills or take a leisure class which raises money to support the Trust's work? Find out more.
Involving children ...
Outdoor learning and play has disappeared from the lives of many children across Britain, but Staffordshire Wildlife Trust is working to keep the tradition alive. 
Every year our education team take thousands of children and young people  bug-hunting, pond-dipping and campfire cooking. They visit schools and weave wildlife into every corner of the curriculum, organise youth activities and arrange family events all over the county. 
... and adults too!
Making sure people of all ages and backgrounds have the chance to enjoy nature and the landscapes of Staffordshire is one of the Trust's priorities. We regularly hold events such as guided walks on our reserves, run conservation volunteer groups and have a network of local groups who stage walks and talks.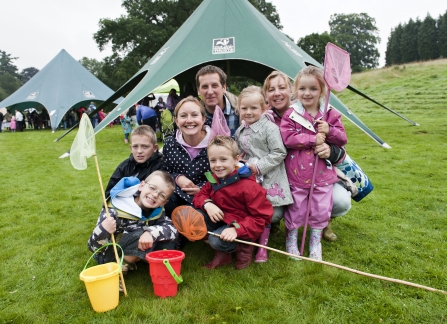 All our lives are better when they're a bit wild
Discover events on near you
Like what we do? Get more involved....
Keep up-to-date on social media