Creating a living landscape
Our vision is to create a Living Landscape in Staffordshire. The Living Landscape concept involves focussing our efforts on improving the wider landscape to make it a better place for wildlife. As well as continuing to protect and expand core areas of high quality habitat, such as nature reserves, the Trust is investing energy into the land in between these core areas – the farmland, gardens, parks, allotments, community areas, school grounds and even golf courses -to make them into places that  can support wildlife.
People are crucial to making Living Landscape schemes work, and to be successful, individuals, communities and businesses all need to get involved to help shape and care for their local environment.
We are visionary
Read our plans for the future and our vision for your wildlife 2017-2020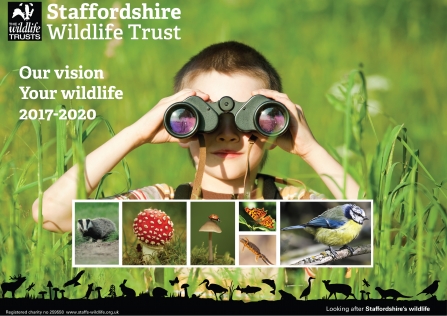 Our values 
Resourceful: Making best use of what we have, and always alive to opportunities to do things better and more efficiently
Passionate: Making the case for valuing and protecting wildlife
Pioneering: Using new and innovative ways to achieve our vision helping us led by example
Evidence: Based Making our case on scientific-face and interpretation
Welcoming: Giving our members, our supporters, and the wider public the best service possible
Professional: Striving to be the best we can be in all that we do, seeking continuous improvement and benchmarking our performance 
Collaborative: Working in partnerships between staff, volunteers, members, communities, landowners, businesses and many others to achieve our vision