Call, email or write to us - or use the contact form below to get in touch.
COVID19 UPDATE
We are constantly monitoring the CVOID 19 situation and if anything changes, in line with Government advice, we'll inform you accordingly through social media, on our website or via email.
If you have any questions, the best ways to get in touch are via email (info@staffs-wildlife.org.uk) or through our Facebook page (www.facebook.com/StaffsWildlife). You can also leave a voicemail on 01889 880100 and we will respond as soon as we can. 
Thank you for your support at this difficult time.
The Wolseley Centre
Our Wolseley Centre grounds are now open but the centre itself and the toilets remain closed. If you intend to visit Wolseley please read our recent site updates here
Westport Lake Visitor Centre
Please note that  the Westport Lake Visitor Centre is now open, you can find out more here 
Nature Reserves
You can find out which of our reserves are open here
People Engament events 
We are excited to announce that our face to face People Engagement programme resumed in August. You can find out more about this here and see our upcoming planned events here 
We look forward to welcoming you back!
Chaarity shops
Our charity shops are open and also able to accept donations but running at reduced times / dates - find out more here
Membership 
If you would like to contact us regarding your membership, please email us on member@staffs-wildlife.org.uk and we will get back to you as soon as we can. If you wish to cancel your membership, please make sure you have left your name, postcode and membership number (should you know it) and if you pay by Direct Debit please also cancel directly with your bank and we will receive a notification.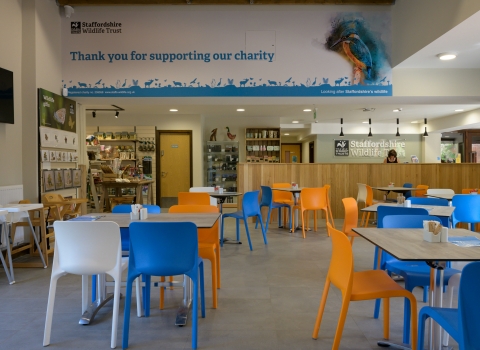 The Wolseley Centre
The Wolseley Centre (Staffordshire Wildlife Trust's main office) and general enquiries:
Address: The Wolseley Centre, Wolseley Bridge, Stafford, ST17 0WT.
Tel: 01889 880100 (Please note that due to COVID 19 our phones are not monitored. You are best emailing the account below)
Email: info@staffs-wildlife.org.uk
Opening times:
COVID 19 UPDATE;
The Wolseley Centre grounds are currently open daily 9am-4pm
The Centre itself and toilets remain closed but we have placed portaloos onsite.
Our Kingfisher Cafe is open at 10am, with a limited takeaway menu on offer including hot and cold drinks, sandwiches and ice creams. The queue for the café, which will close at 3pm, will be at the rear of the building and people are being encouraged to adhere to the signage. No tables will be put out initially.
Press enquiries
For all media and press enquiries please call the media office on 01889 880140. The media office is manned between 8am and 4pm, Monday to Friday. Alternatively email Jon Owen, Press and Social Media Officer, j.owen@staffs-wildlife.org.uk.
Other enquiries 
Please fill out the form below and we'll be in touch soon. 
The Trust does not have a wildlife rescue service. If you find a sick or injured animal, please see below to find out one of the following organisations or advice.