Call, email or write to us - or use the contact form below to get in touch.
COVID19
Please note that due to ongoing Coronavirus concerns, our charity shops and visitor centres (including Wolseley grounds) are closed. 
We have also taken the step to cancel all our events and engagement sessions for the next few weeks, at least until April 14th, to help keep people safe. This will be reviewed on a rolling basis.
The Government's scientists have been clear on the need to avoid social contact with others and not to travel unnecessarily. Therefore we urge anyone considering visiting outdoor spaces not to make unnecessary journeys, to think about visiting alternative green spaces closer to home, and follow Government advice on social distancing at all times.
We are constantly monitoring the situation and if anything changes, in line with Government advice, we'll inform you accordingly through social media, on our website or via email.
If you have any questions, the best ways to get in touch are via email (info@staffs-wildlife.org.uk) or through our Facebook page (www.facebook.com/StaffsWildlife). You can also leave a voicemail on 01889 880100 and we will respond as soon as we can.
If you would like to contact us regarding your membership, please email us on member@staffs-wildlife.org.uk and we will get back to you as soon as we can. If you wish to cancel your membership, please make sure you have left your name, postcode and membership number (should you know it) and if you pay by Direct Debit please also cancel directly with your bank and we will receive a notification. 
Thank you for your support at this difficult time.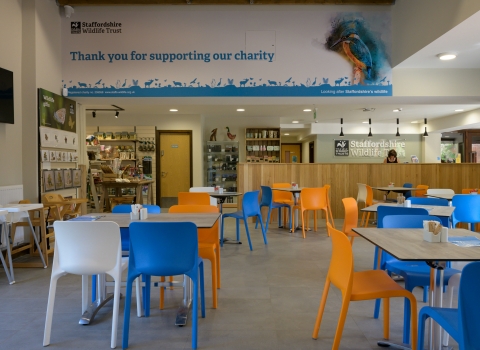 The Wolseley Centre
The Wolseley Centre (Staffordshire Wildlife Trust's main office) and general enquiries:
Address: The Wolseley Centre, Wolseley Bridge, Stafford, ST17 0WT.
Tel: 01889 880100
Email: info@staffs-wildlife.org.uk
Opening times:
The Wolseley Centre opens from 9am-5pm Monday to Saturday and 10am-5pm on Sunday.
Our Kingfisher Cafe opens from 9.30am-4.30pm Monday - Saturday, and 10am-4.30pm on Sundays.
Press enquiries
For all media and press enquiries please call the media office on 01889 880140. The media office is manned between 8am and 4pm, Monday to Friday. Alternatively email Jon Owen, Press and Social Media Officer, j.owen@staffs-wildlife.org.uk.
Other enquiries 
Please fill out the form below and we'll be in touch soon.