Wildlife advice / FAQ's
Seeing wildlife can be incredible, but it can be hard to know what to do in certain situations. Maybe you have discovered an injured or dead animal, or maybe you suspect that a crime has been committed. We are asked lots of questions about wildlife, but some crop up regularly. Below, are some of the queries that we are asked most frequently. Our wildlife advice pages will help you know what to do and who to contact if you do find yourself in certain situations.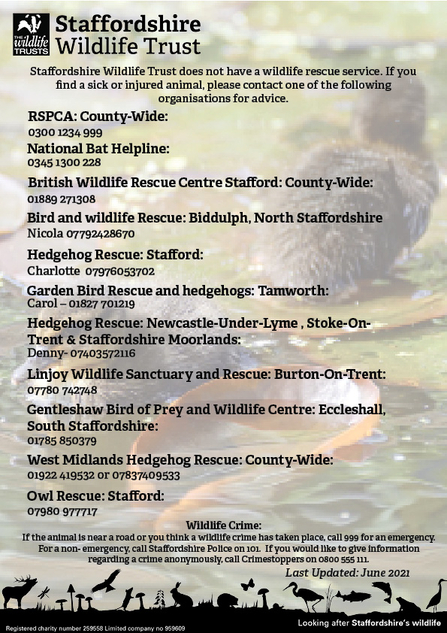 Quick contacts
Injured wildlife
The RSPCA (0300 1234 999) and Help Wildlife's pages carry more detailed advice on what to do with injured birds and other wildlife. Help Wildlife also have a useful map to help find your local wildlife rescue service.
You can also call the RSPCA on 0300 1234 999.  If the animal is near a road or you think a wildlife crime has taken place, call 999 for an emergency. For a non- emergency, call the police on 101.  If you would like to give information regarding a crime anonymously, call Crimestoppers on 0800 555 111.
The following contacts can also help with animal support 
Hedgehogs
British Wildlife Rescue Centre Stafford 01889 271308
West Midlands Hedgehog Rescue: County-Wide 01922 419532 or 07837409533
Charlotte in wildwood stafford 07976053702
Carol in Tamworth 01827 701219
Denny in Newcastle-Under-Lyme , Stoke-On-Trent & Staffordshire Moorlands 07403572116
Nicola in Biddulph, North Staffordshire 07792428670 
See further options in the leaflet above 
Birds
British Wildlife Rescue Centre Stafford 01889 271308
Nicola in biddulph  07792428670
Carol in Tamworth 01827 701219
See further options in the leaflet above 
Marine sightings and strandings
Visit the marine sightings and strandings page for a detailed list of contacts.
Wildlife crime
If you witness a wildlife crime taking place, call 999. For a non-emergency, call 101. If you would like to give information regarding a crime anonymously, call Crimestoppers on 0800 555 111.
FAQ's
I've found a sick or injured animal. What should I do?

Staffordshire Wildlife Trust does not have a wildlife rescue service. If you find a sick or injured animal, please contact one of the following organisations for advice.

Local wildlife rescue centres

Hedgehog and Garden Bird Rescue (Cannock)

Tel: 01922 414694 or 07769 279257 or 07790 189360

RSPCA Wildlife Hospital (Nantwich)

Tel: 08704 427102

Amerton Wildlife Rescue (Stafford)

Tel: 01889 271308

Gentleshaw Birds of Prey and Wildlife Centre (Eccleshall)

Tel: 01785 850379

Westport Wildlife Rescue (Stoke-on-Trent)

Tel: 01782 811722

West Midlands Hedgehog Rescue

Tel: 01922 419532 or 07837409533

Here is some further information on specific species:

Hedgehogs - If you find a young hedgehog in September which has definitely been orphaned keep it in a high sided-box somewhere warm indoors and feed it on minced meat, liver, meat-based dog or cat food and scrambled egg (not milk, as more than a little can be harmful). Call your local wildlife rescue centre (numbers above) or the British Hedgehog Preservation Society as soon as possible on 01584 890 801 for further advice.

Bats - If a bat is found on the ground, on an outside wall, or in an exposed area it may be unwell or injured and will be vulnerable. You should call the Bat Helpline 0845 1300 228 for further advice and to be put in touch with a local volunteer bat carer. You should avoid handling the bat, but if it is necessary, always wear gloves to avoid being bitten, due to the small risk of a rabies type virus rarely carried by British Bats. Please contain the bat in a box or similar, well secured (bats can get out through small spaces!) with adequate air holes. The box can be lined with paper towel and a small dish-such as a milk bottle lid – with water soaked tissue in it can be provided for the bat to drink from. Care needs to be taken not to allow this dish to soak the whole box as this will be detrimental to the bat.
Only a bat that has been confirmed as fit and healthy by a bat carer should be released, and never during the day. Please don't assume the bat is healthy and leave it outside to fly away
I've found a baby bird that has fallen from its nest - what shall I do?

It is normal for fledglings (feathered young birds) to spend a day or two on the ground as their flight feathers grow fully. The parents are likely to be around nearby keeping an eye on their offspring or temporarily absent looking for food. The best thing to do is leave the young bird where it is - it is unlikely it will have been abandoned. 

If the bird is in danger, for example near a road, pick it up and move it a short distance to a safer place, so the parents will still be able to find it. If it is in danger from a domestic pet, such as a cat, keep the pet indoors until the fledgling is airborne.

If the young bird is unfeathered, or covered in down, it may have fallen from the nest by accident. If it appears strong and healthy, you can return it to the nest. If it is not healthy or is injured, it may have been ejected from the nest by its parents. In this case, it is best to contact a wildlife rescue centre (see the list of numbers in 'I've found a sick or injured animal' FAQ).
What are the best plants to grow in your garden to attract bees/butterflies?
My pond is overcrowded with frogspawn - shall I get rid of it?

Sometimes ponds can seem overcrowded with clumps of spawn, or heaving masses of tadpoles. Don't worry! This is completely natural. It's the frogs' way of coping with the fact that large numbers of tadpoles and young frogs die. A female may produce 2,000 eggs (female toads tend to produce about 1,000) and of these only four or five are likely to make it to old age, which in frog terms is probably about four years old. The rest will make up an important part of the diet of a wide range of wildlife including herons, fish, beetle larvae and blackbirds. This high death rate is distressing but totally natural, and it means that you will not be knee-deep in frogs when they all develop.

Do not take spawn to another pond or remove it to the wild. Doing so will only create a vacant niche which may encourage more spawning. Besides, moving frogs to new ponds risks spreading an unpleasant frog disease, red leg, which is now afflicting our frog population. The best thing is to leave the spawn where it is and let nature take its course.
I've find an interesting plant or animal and I want some help in identifying what it is.

Send full details and a high quality photo to Stafford Ecological Record which is based here at the Trust - we may be able to help. However, we get lots of requests so it may take a while - please be patient.

Another option is to join the I Spot community which is run by the Open University. It's a website where, once you have signed up, you can upload your image and someone will get back to you with their thoughts on what it is.