Reducing the risk of flooding
Natural flood management (NFM) uses natural processes to help reduce the risk of flooding to people, properties and infrastructure.
Ecologists, engineers and landowners are coming together up and down the country to use NFM to store and slow flood waters. At the same time we can re-create wildlife habitats and provide other benefits for soil protection, water quality, re-charging groundwater supplies and increasing the resilience of catchments adapting to changing climatic conditions.
Flood waters naturally need something to 'chew on' to reduce their energy and to slow them down. Rivers and streams with natural features such as meanders, backwaters, ox-bows, wooded corridors, wetlands, in-channel gravel shoals and log jams all help to slow flows and store water and sediment.
The main priority for NFM is to take a 'catchment-based approach' to identify the best areas to restore these natural features.
In Staffordshire a number of NFM projects are underway and are being delivered in partnership with a wide range of organisations, communities and landowners. These include the Environment Agency, CaBA, Natural England, Staffordshire County Council, Cheshire Wildlife Trust and Warwickshire Wildlife Trust.
For more information, explore the links below or take a look at our case studies.
Further Information:
Case studies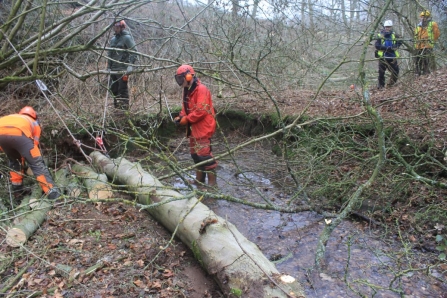 Nature's Flood Defence
Staffordshire's leading nature conservation charity is helping protect communities and create new wildlife habitats by tackling flooding and improving water quality through its 'Nature's Flood Defence' project. The project, led by Staffordshire Wildlife Trust and Warwickshire Wildlife Trust, in partnership with Staffordshire County Council, Warwickshire County Council and the Environment Agency, aims to help protect people from flooding and create new wildlife habitats.
The innovative project uses Natural Flood Management (NFM) techniques to delay the time water takes to flow downstream. By slowing the flow and holding water away from homes and businesses in new wetlands and complex habitats, communities are better protected from the risk of flooding.
This project and funding is additional to the funding the government recently announced for Natural Flood Management schemes. Examples include slowing down fast water flows by placing trees across watercourses and by 'roughing up' the vegetation that buffer streams; storing water by creating new wetlands such as ponds, reed beds and washlands, increasing soil infiltration by reducing grazing pressure and reverting areas of arable land to grassland.
In Staffordshire, the Trust is also working with a wide range of partners including farmers, private landowners and the Staffordshire Trent Valley Catchment Partnership.
Natural Flood Management is already proving a cost-effective solution to helping to reduce flood risk at Stone by working along the Scotch Brook and its tributaries. Stone is at risk of flooding when the Scotch Brook culvert under the town blocks with sediment. This project will store both water and sediment upstream reducing sediment entering the culvert. This also means the Environment Agency will need to maintain the culvert less so it reduces maintenance and overall costs.
This multi-agency project is funded by the Environment Agency (via the Trent Regional Flood and Coastal Committee) until March 2021.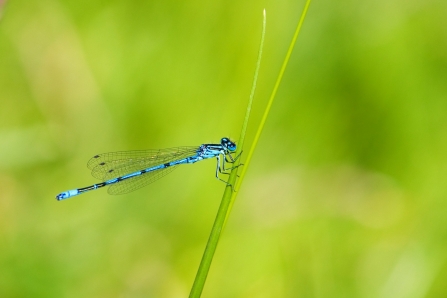 The Trust has recently completed two further NFM schemes near the Scotch Brook recently, one to create natural features across Cotwalton Drumble, an ancient woodland and Local Wildlife Site. These natural features included log jams and enhanced wetland and woodland habitats which will help to slow the flow of water along this tributary of the Scotch Brook. Meanwhile, further downstream, a new area to store flood water run-off, along with a new wildlife pond and reed swamp in an area which collects water and silt which was previously connected straight into the watercourse.
Nick Mott, from the Trust, said: "We are experiencing extremes of weather as we lurch between bone dry drought conditions and violent flash floods. This partnership project has been set up to help re-think the way we manage our land to protect against these extremes. Our job as ecologists is to make sure the techniques we're using are benefiting both people and wildlife."
Matthew Lawrence from the Environment Agency said "We're proud to be part of this project; combining innovative natural flood management techniques while improving habitat and water quality is an important part of the Environment Agency's approach to tackling the risk of flooding."
 
Staffordshire County Council's communities' leader Gill Heath said:  "This is a five year project funded through the Trent Regional Flood and Coastal Committee aimed at reducing flood risk and improving habitat throughout the Trent catchment in Staffordshire and Warwickshire. Nature's Flood Defence is also working throughout much of Staffordshire and North Warwickshire to help protect other flood-prone settlements including Stafford, Leek, Leekbrook, Cheddleton, Endon, Marchington, Penkridge, Fillongley and Tamworth."
Restoring the Penk
The Collaboration on Restoring the Penk Catchment project was funded by the Environment Agency through the Water Environment Improvement Fund with Natural England supporting the work through Catchment Sensitive Farming.
The main aim of the project was to improve the water quality of the Whiston Brook, located to the west of Penkridge, which is a tributary of the River Penk. The Whiston Brook catchment as a whole is suffering from elevated phosphate levels as a result of agricultural diffuse pollution.
The project work captured on the video, occurred as a result of the co-operation between the landowners at Littywood Farm Ltd and Staffordshire Wildlife Trust, who delivered the project. Both of the project areas were based on cherry plantation fields; Bradley was planted in 2014 and Lapley was planted in 2016.
The swales created will allow for sediment settlement, limited attenuation of water and once vegetated will aid with the uptake of nutrients. The average depth of the swales are approximately 0.5 m, however deeper and shallower areas were created.
The original pipework, that carried water directly from the entrance of the cherry polytunnels to the tributaries, were intercepted in order for the water to flow into the swale areas before then being piped underground into the un-named tributaries. The new pipework that has been installed, allows machinery access to the buffer areas, which has been floristically enhanced at Lapley together with the areas immediately surrounding the swales, by a process known as green hay strewing, using species-rich green hay from the nearby Mottey Meadows Site of Special Scientific Interest, Special Area of Conservation and National Nature Reserve, and they will be managed appropriately.  
The aims were achieved by trapping sediments and holding more water back, in order to reduce the amount of sediment and any nutrients flowing into the un-named tributaries.  The works have created new wetland habitats, water features and enhanced existing grassland providing opportunities for a range of terrestrial and wetland wildlife.
Case study Restoring the Penk_2016-17
Further case studies
Click the links below to read about some of our other Natural Flood Management case studies 
Case Study - Trent Valley Rural SUDS Yr2 Scotch Brook
Case Study - Trent Valley Rural SUDS Yr3 Mottey Meadows
Managing woody debris in rivers, streams and floodplains
Fish Live in Trees Too: River Rehabilitation and Large Woody Debris
Farming Floodplains for the Future project