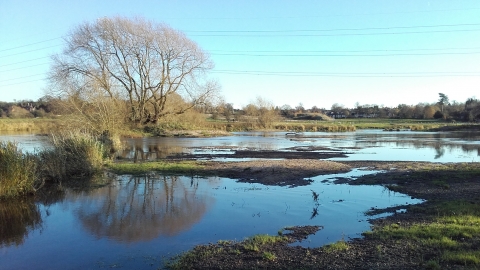 Tucklesholme is a nature reserve in the making. A former gravel pit being restored back to a wetland habitat, it provides a home for a number of key breeding bird species that specialise in this open wetland environment.
Know before you go
Parking information
Car park is currently closed
Grazing animals
No
Walking trails
There are 2 viewing screens which are marked on the map on the interp board. Please stay on the tracks.
Access
The reserve car park is just off Station Lane to the east of the A38 in the direction of Walton-on-Trent. Nearest postcode is DE13 8EN.
When walking round the site, please stay on the tracks.
No gates but kissing gate onto public footpath 
Car park is currently closed  
Dogs
On a lead
Please stay on the tracks.
When to visit
Opening times
Open all year round. The reserve car park is locked at 7pm and open at 7am.
Best time to visit
Best time to visit is spring for breeding waders and winter for overwintering wildfowl.
About the reserve
Tucklesholme is one of a network of current and former quarries within the 'Transforming the Trent Valley' landscape. The vision is for this to become one of the great connected wetland areas in the UK.
In 2018 quarrying operations ended at Tucklesholme and the transformation from quarry to nature reserve began. Over the next few years you will see the reedbed in the northern lake expand to become the largest in the Trent Valley. The exposed sandy shingles on the southern lake provide valuable nesting habitat to rare birds such as little ringed plover and oystercatcher, while the wet grassland areas offer the perfect spot for lapwing to raise their young. The reserve was opened to the public on 17th May 2019.
You can read more on the vision for Tucklesholme here and here
Contact us
Staffordshire Wildlife Trust
European Regional Development Fund
Works are part-funded by the European Regional Development Fund