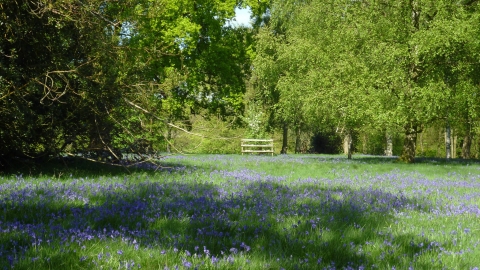 A long-term project to restore arable land to wildlife-rich wood pasture which once covered much of the landscape
Location
Know before you go
Entry fee
No
Parking information
Reasonable sized parking area at the entrance to the reserve. Please be aware that access is restricted due to height barrier.
Grazing animals
Yes
Walking trails
Generally flat. A circular walk, generally flat with gentle inclines.
Contact the Trust for disabled access information.
Access is via pedestrian kissing gates
Access
Reasonable sized parking area at the entrance to the reserve.
Please be aware that access is restricted for high vehicles.
Access is via pedestrian kissing gates
When to visit
Opening times
Open at all times
Best time to visit
April to July
About the reserve
Highlights
Follow our family friendly trail around the reserve and find out more about the wildlife we're protecting and the landscape we're recreating
We are using an innovative technique called soil inversion to create our new hay meadow
Restoring a historic landscape
Until relatively recently the land before you was farmed for wheat and other arable crops. But if you could travel back in time to the 1700's you would have seen a very different landscape. This area was formerly part of the Needwood Forest, a collection of seven estates including the area you see before you, and extended to over 9,000 acres of largely wooded parkland or 'wood pasture' Large numbers of trees were cleared during the enclosures of the 1800's when land was claimed for agriculture. Part of the reserve and some of the nearby woodlands are relicts of this historic landscape which the Trust is now trying to recreate at Brankley Pastures.  
What is wood pasture?
Wood Pasture is a special type of woodland. As the name suggests it is a cross between grassland and woodland. Grazing animals are a key component of wood pastures and have been instrumental in creating these historic landscapes. The trees would have provided shelter for grazing animals while the grassland provided food. Ancient, veteran trees are a characteristic feature of wood pastures and one of the reasons why this habitat is so special and so difficult to recreate!  
Not just dead wood
Dead wood is a key component of good wood pasture habitat. A detailed invertebrate survey of part of the site, known as Oakwood Pastures, has revealed over 500 different species of insect. Of these 23 are nationally scarce and associated specifically with dead or decaying wood. Most of these insects aren't found on the rest of the site yet and it will be many hundreds of years before we get any naturally occurring dead wood. In the meantime we're looking at the possibility of bringing in timber to create new dead wood habitat piles  
Recipe for creating a wood pasture. What you'll need…
One piece of land
Nearby hedgerows
Woodland and mature trees to provide seeds
A good handful of help from mother nature
A heaped minibus full of willing volunteers
A sprinkling of grazing animals
First take your land. Disturb the soil to allow tree seedlings to establish. Give mother nature a helping hand by using volunteers to scatter acorns and other tree seed which can be collected on site or nearby. Gradually reintroduce some cattle – not too many so that they browse the new trees, not too few so that grasses smother the seedlings. Mix gently and allow to settle for several hundred years.
It's a slow process to recreate a historic landscape which will be hundreds of years in the making. We've made a start but if you can't wait that long then why not follow the trail around the reserve to discover Oakwood Pastures, part of the reserve which still has a good number of ancient trees and is grazed by cattle in the traditional manner.
We may have started the process but it will be future generations that will see the results of our work.  
A Living Landscape
'Living Landscapes' is The Wildlife Trusts innovative approach to nature conservation and involves focusing our efforts on improving the wider landscape to make it better for wildlife.  Find out more here
Contact us
Staffordshire Wildlife Trust