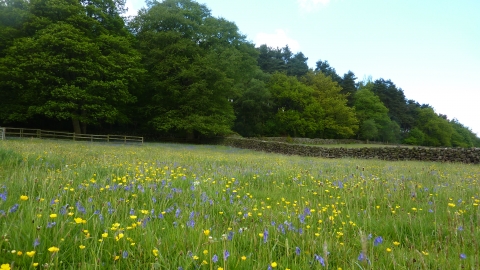 A network of small fields that have escaped degrading agricultural activities
Location
Know before you go
Entry fee
No
Parking information
Parking is very limited - there is room for a single vehicle to park at the entrance to the reserve. Please park with consideration to other users of the track
Grazing animals
Yes
Walking trails
Visitors are welcome to explore the fields. They can be steep in places. The lower fields are quite steep and the walk along the stream can be quite muddy. Contact the Trust for disabled access information.
Access
Parking is very limited - there is room for a single vehicle to park at the entrance to the reserve. Contact the Trust for disabled access information.
When to visit
Opening times
Open at all times
Best time to visit
April to July
About the reserve
Highlights
Visit in mid summer when the wild flowers are at their best. The tall colourful flowers of ox-eye daisy, devil's-bit scabious and knapweed also appeal to a variety of butterflies – see how many different types you can see on warm, sunny days. 
Discover the trickling waterfall. Explore along the stream and you'll see where the water from the fields above seeps out through the underlying geology, providing a dark, damp place for mosses and ferns.
'Improving' the landscape
Situated within the same tranquil valley as Cotton Dell, Side Farm Meadows consists of a network of small fields enclosed by traditional dry-stone walls. Being situated on relatively inaccessible slopes, the reserve, and much of the surrounding land, has escaped intensive agricultural activities and consequently supports an abundance of wildlife.
Our native wild flowers survive best in fields like these which haven't  been agriculturally 'improved' by the addition of artificial fertilisers. Look amongst the derelict walls for species such as tormentil, heath bedstraw and heath speedwell. Taller flowering plants include ox-eye daisy, devil's-bit scabious and knapweed. You may even find (or smell!) the rare lemon-scented fern!  
Creepy crawlies
Butterflies such as comma, meadow brown, large skipper and green hairstreak can be seen on warm sunny days. A small pond provides breeding areas for aquatic insects such as water boatmen, pond skaters, damselflies and dragonflies.  
Walls – just a pile of stone or corridors for wildlife?
The dry-stone walls provide an additional habitat for wildlife. They provide shelter and cover for small mammals such as weasels, stoats and voles, as well as supporting over 50 species of lichens. Lichens are intolerant of atmospheric pollution and their abundance here indicates the good air quality of the area.  
Four-legged lawnmowers
The wildflower interest is maintained with the help of a local grazier who ensures the right number of cows and sheep prevent the fields from becoming overgrown or over-grazed!  
A Living Landscape
This nature reserve is part of the Churnet Valley Living Landscape
'Living Landscapes' is The Wildlife Trusts innovative approach to nature conservation and involves focusing our efforts on improving the wider landscape to make it better for wildlife.  Find out more here
This nature reserve is leased from Plant Life
Species
Habitat
Contact us
Staffordshire Wildlife Trust