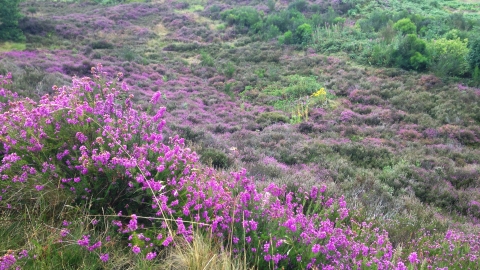 Gentleshaw Common became Staffordshire Wildlife Trust's 27th nature reserve after we signed a 99-year lease with Lichfield District Council to manage the site. 'A haven for a whole host of wildlife, the Common is home to many species of birds, solitary bees and wasps as well as many species of plants including bog asphodel, heather and fly-catching carnivorous sundew
Location
Know before you go
Parking information
Parking can be found in laybys around the Common and a small car park which can be found at WS15 4RU, opposite the redmoor inn
Walking trails
A network of paths crossing the heathland which can be muddy and uneven in places
Access
There are a network of paths crossing the heathland. Can be muddy and uneven in places
Disabled access.
There are no gates on the site 
Dogs
Dogs permitted
Dogs must be kept under close control from March-August to avoid disturbing ground nesting birds
When to visit
Opening times
All day
Best time to visit
August to August
About the reserve
Highlights
Visit the site in August and enjoy the purple splendour of this lowland heathland
Gentleshaw Common SSSI is a key part of the network of nationally important heathland sites throughout the West Midlands
Volunteer community practical conservation sessions have just begun on the Common to give local people the opportunity to get involved in the management of their local nature reserve  
Staffordshire's Healthland Gems
The Common is one of the largest areas of lowland heath in Staffordshire, covering 86 hectares. Gentleshaw Common's status as one of the UK's best wildlife sites was reflected in its designation as a Site of Special Scientific Interest in 1981. Habitats like this with heather, bilberry, cowberry and beautiful fine grasses such as wavy hair grass support a wide range of insect and bird life. Gentleshaw Common is one of an arc of heathlands in this part of Staffordshire stretching from Sutton Park on the horizon in front of you up to Cannock Chase.  
Brilliant Wet Heath Habitat
Lying in the centre of the reserve is a valley of wet heathland which harbours a great array of wetland plants including the rare bog asphodel, cross leaved heath, cranberry and the carnivorous sundew. The large areas of purple moor grass that dominates the area will be intensive managed so it to reduce its impact upon the more fragile rarer plant species.  
Sandy Haven
The acidic nature and sandy soils of Gentleshaw Common provide an ideal habitat for numerous invertebrates including, the under recorded, solitary mining bees which create the small holes that can be seen along sandy paths. The Common also includes an impressive disused sandstone quarry, which with its exposed south facing slopes provides a valuable habitat for a plethora of invertebrates which is a hive of activity in the spring through to summer.  
A Living Landscape
'Living Landscapes' is The Wildlife Trusts innovative approach to nature conservation, and involves focusing our efforts on improving the wider landscape to make it better for wildlife. Find out more here.
Species
Contact us
Staffordshire Wildlife Trust
Environmental designation
SAC SSSI