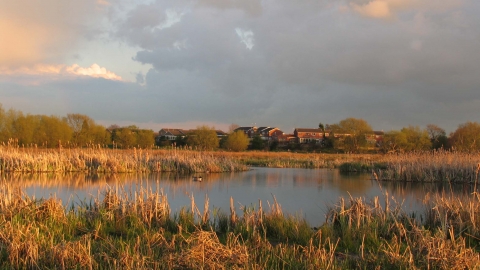 A wetland oasis near the centre of Stafford and one of the country's best bird watching sites
Location
Know before you go
Entry fee
No
Parking information
Parking options: You can park in the car park at the end of Wootton Drive.
Grazing animals
Yes
Walking trails
Flat surfaced paths cover most of the reserve, although access is occasionally reduced during periods of flooding.
Please observe on-site instructions for the on-lead/off-lead dog zones across the reserve.
Access onto site is via RADAR Kissing gates (for disabled access)
Contact the Trust for further disabled access information.
Access
Flat surfaced paths cover most of the reserve, although access is occasionally reduced during periods of flooding. 
Access onto site is via RADAR Kissing gates (for disabled access) and the site has accessible tracks 
Contact the Trust for further disabled access information.
Bird hides update 
Unfortunately, due to persistent antisocial behavior out of hours, we have installed a metal door to the main bird hide which has a combination lock on the entrance to allow access. The combination code can be obtained by contacting the Trust at info@staffs-wildlife.org.uk 
Covid 19 Update
The large bird hide is currently locked but will be opened on the 12th April.  Please continue to follow the Governments's social contact and distancing rules and respect other visitors.
When to visit
Opening times
Open at all times
Best time to visit
March to May, September to December
About the reserve
Visitors to Doxey Marshes can get closer to wildlife;
Bird Hides 
The reserve has two bird hides and a series of pond dipping platforms 
Here are a few species to look out for from each bird hide - so grab your binoculars and get spotting!
The rectangular hide overlooking Tillington Flash:  Oystercatcher (spring); hobby (summer); shelduck (summer); goosander (autumn and winter); black tailed godwit (spring and autumn); great crested grebe (all year); little egret (all year). 
The octagonal hide overlooking the scrape: Redshank (spring); green sandpiper (spring and autumn); dunlin (spring and autumn); snipe (all year); lapwing (all year). 
Explore the underwater world
Pond-dipping is a great activity for all the family. You'll be amazed at the wonderful variety of tiny creatures that live in our ponds and lakes. For a guide to pond-dipping, download our Wildlife Watch Activity Sheet
A big thank you to ... The Doxey Marshes improvement project was funded through the Landfill Communities Fund, and the Trust also received a £4,000 grant from Stafford Borough Council, £1,000 from the CLA Charitable Trust and £1,000 from the W E DUNN Trust towards the work. The Trust's Stafford Local Group also donated £1,000 from the proceeds of their walks, talks and events.  
Wax rubbing trail:
Follow the circular trail around the centre of the reserve to find the numbered posts with rubbing plaques of some of the wildlife that lives here. Don't forget your crayons! Download your rubbing sheet at the bottom of this web page.
Take an early morning walk in spring to discover the magic of a wetland dawn chorus:
Look and listen for Lapwing performing their tumbling display flight over the pasture in Spring, whilst calling out 'pee-wit'
Keep an eye out for migrating birds as the reserve is well known for attracting lots of passage species and even the odd rarity!
Visit in the winter months to see large flocks of waterfowl including Wigeon and Teal Birds Galore!
Highlights 
Doxey Marshes is a fantastic place to discover birds with over 200 species recorded and over 80 breeding species.  
The reserve is designated a Site of Special Scientific Interest for its nationally important populations of Lapwing, Snipe and Redshank. The reserve also attracts many rare birds every year, including the first ever Cattle Egret and River Warbler to be recorded in the Midlands region!  
Not Just Birds!
Although well known as a great bird watching location, Doxey Marshes is also home to regionally significant populations of Otter, Harvest Mouse and Water Shrew.  The reserve is also home to a vast array of wetland plants, including the biggest area of Reed-sweet Grass in the Midlands.  In Spring the pastures are carpeted with flowers such as Lady's Smock, Buttercup and Ragged Robin.  
Water, water everywhere
The reserve forms part of the River Sow floodplain so is naturally a wet area and will occasionally flood.  Most of the large pools on the reserve, known locally as flashes, have formed as a result of subsidence from brine extraction in the 1950s.  These flashes are a great place to find many species of water bird including Tufted Duck, Goosander and Great Crested Grebe.  
Mud, Mud Glorious Mud
Across the reserve are numerous muddy depressions known as scrapes.  These were created to encourage wetland birds such as Lapwing and Redshank to breed, as well as providing feeding points for migrating birds
 A Living Landscape
This nature reserve is part of the Staffordshire Rivers Living Landscape
'Living Landscapes' is The Wildlife Trusts innovative approach to nature conservation and involves focusing our efforts on improving the wider landscape to make it better for wildlife.   
Contact us
Staffordshire Wildlife Trust
Environmental designation
Site of Special Scientific Interest (SSSI)