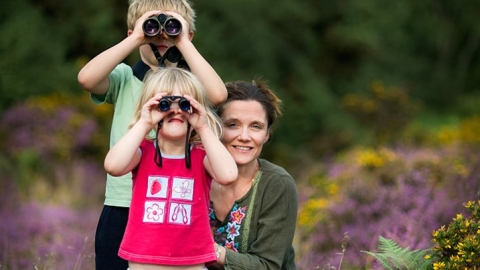 Big Weekend Wildlife Watch
Location:
Your local green space,
Head out to your nearest green space in Staffordshire (your local park, garden, nature reserve)
Book
We are encouraging people to head outside on 15th-16th June and get involved in our exciting Big Weekend Wildlife Watch survey!
About the event
What is it?
Wildlife is in decline across the UK and we are calling on you, Wildlife Explorer, to help us survey the state of Staffordshire's wildlife across the county.  We want you to look out for 30 key species across Staffordshire, you can find these in your garden, local park, nature reserve or green space. We want you to note how many of each species you have seen and send in the results to us. For those of you who are luckily there are 6 gold star species to look out for that are more difficult to spot than the others. 
Species range from mammals to moths to bees and birds that we are asking you to look out for. 
To take part in our Big Weekend Wildlife Watch, you will need to fill in the form on our website here to register your interest. Once signed up, you'll get a confirmation message with a link to download your spotting booklet ready for the Big Wild Weekend. You will need to print and fill it in. Your booklet will include a checklist of the species we want you to look out for so you can tick them off along with some facts to help you spot the species. 
Although we are asking you to look out for 30 species, we very much welcome you sending in records of any others you manage to spot. We felt like 30 species was a good number to look out for over the weekend. 
Why take part?
You will have seen from our recent Wilder Future campaign that nature is in trouble and needs out help. Many species are threatened and we need to act to put nature into recovery before it is too late. 
By recording species for our Big Weekend Wildlife Watch you will be helping us analyse the state of Staffordshire's wildlife. Once numbers have been collated, we can start to see which species aren't doing so well and therefore make extra efforts to help these species. 
It is also great fun trying to spot wildlife and is the perfect excuse to get out and explore your local wild spaces and well ... go wild! 
Don't forget to keep us updating with how you are getting on by tagging us on Facebook, Instagram and Twitter.
Best of luck, we are counting on you Wildlife Explorers! 
Booking