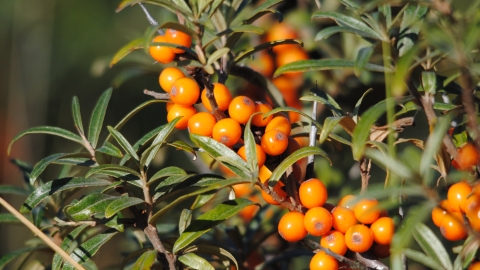 Sea-buckthorn
Scientific name:
Hippophae rhamnoides
Sea-buckthorn is a spiny, thicket-forming shrub of sand dunes on the east coast of England, but has also been planted elsewhere. It is most obvious in autumn when it is full of bright orange berries.
Species information
Category
Statistics
Height: 1-8m
Conservation status
Common.
When to see
January to December
About
Sea-buckthorn is a very spiny shrub, native to sand dunes along the east coast of England, but planted in other areas to help stabilise dune systems. It forms dense thickets with thorny twigs and, although it has small green flowers, is most noticeable in the autumn when it displays an abundance of bright orange berries.
How to identify
Sea-buckthorn is a large, deciduous shrub that has long, narrow, greyish leaves and small, green flowers. Its bright orange berries are probably its most distinguishing feature.
Distribution
Grows wild along the east coast of England and the coast of Northern Ireland; widely planted elsewhere.
Habitats
Did you know?
The orange berries of Sea-buckthorn provide food for wintering thrushes as they arrive from the continent in the autumn. They can also provide food for us, too, as they can be used to create jellies or syrups.
How people can help
The Wildlife Trusts manage many coastal nature reserves for the benefit of the wildlife they support. You can help by supporting your local Trust and becoming a member; you'll find out about exciting wildlife news, events on your doorstep and volunteering opportunities, and will be helping local wildlife along the way.