Have your own Wildchild Festival at home!
Fancy having your own Wildchild Festival in your garden this summer?
Download our FREE Festival at Home pack and you can hold your own Wildchild Festival at home! The pack is filled full of ideas and creations to turn your festival at home into a magical experience. 
The pack will show you how to create all the ingredients you need for a truly fabulous festival from making your own tipi and wildchild bunting to games and even more creations!
Lets go and turn your garden WILD!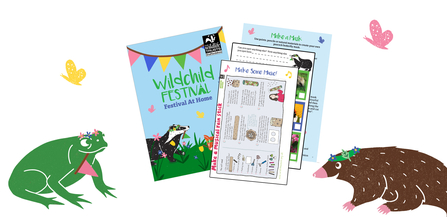 We are delighted to be able to deliver our Wildchild Festival again this year however you may notice it might look a bit different. This year we are turning August into A Wildchild Festival month with lots of exciting activities happening throughout.
Not only are we hosting Wildchild Festival activities at the Wolseley Centre but we want you to hold your own Wildchild Festivals at home too! 
We want to encourage as many families to set up your own festival and share your festival photos with us, we would love to see them!
You can share any photos with us or tag us via social media such as on Facebook, Instagram and Twitter or email to getwild@staffs-wildlife.org.uk and don't forget to use our festival hashtag #WildChildFestival 
A huge thank you to the University of Wolverhampton for sponsoring our Festival at Home packs
Download your pack!
Fill in the form below and we'll send you a link where you can download your Festival at Home pack!