Restoring over 50 hectares of precious lowland heathland on Cannock Chase
The Trust and its partners are working to recreate and restore over 50 hectares of precious lowland heathland on Cannock Chase
It's as rare as rainforest and as fragile as ancient woodland - making heathland a top priority for nature conservationists.
About 20 per cent of the planet's lowland heathland is found in Britain, and Cannock Chase forms part of a biologically and historically important landscape which includes the largest surviving area of lowland heathland in Central England. 
The Connecting Cannock Chase - Lowland Heathland Project aims to create and restore around 50 hectares of heathland on three areas of Forestry Commission land on the Chase.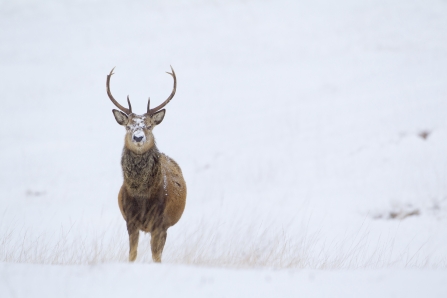 Wildlife corridors
These new areas of heathland will form a network of 'corridors' connecting existing heathland areas. These corridors will enable heathland wildlife to move easily between the different heathland areas on the Chase - an important factor in their future survival.
Heathland will be restored by carrying out a targetted programme of scrub and bracken control. Although some trees and small areas of bracken are a vital component of heathland habitats, if left unchecked they will soon begin to encroach onto open heathland, eventually shading out heather and other plants.
Volunteering
You can join in and help to restore heathland by becoming a volunteer for the project. Volunteering days take place throughout the year - see What's On for details of the next meeting, or email sbap@staffs-wildlife.org.uk or call 01889 880121.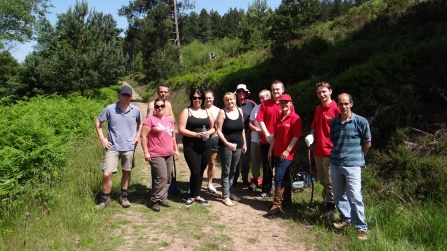 Four-legged help
A team of hardy cattle will also be doing their bit to help restore the rare heathland habitat. Grazing on land totalling 24 hectares, the Hereford and Devon cows will munch on invasive plants, encouraging heather to flourish.
Grazing was common on the Chase over 100 years ago and is a sustainable way of managing the areas. Walkers will still be able to access the areas where the grazers are through a series of kissing gates along footpaths and bridlegates on bridleways.
You can read more about grazing as part of the project in the leaflet available to download below. 
Cannock Chase Grazing Leaflet pg 1
Cannock Chase Grazing Leaflet pg 2
The Connecting Cannock Chase partnership and funders
The Connecting Cannock Chase Partnership is a partnership between Staffordshire Wildlife Trust, the Forestry Commission, Natural England, Staffordshire County Council, Cannock Chase AONB, Butterfly Conservation, and RSPB, with funding from SITA Trust's Enriching Nature Programme, through the Landfill Communities Fund and additional funds from partner organisations.