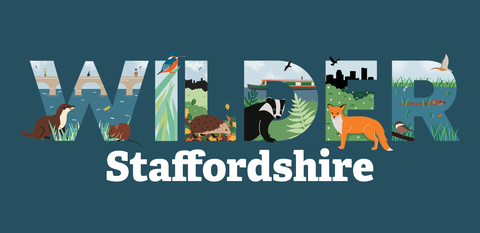 Our manifesto for a Wilder Future
It is now clearer than ever how vital nature and our wildlife are to all of us. During the pandemic the natural world has been a lifeline to so many of us; opening a window to listen to the birdsong, walking in a sun-dappled woodland, breathing in fresh, clean air. We depend on nature, for our homes, our
water, our food, our physical and mental health, and even for our future prosperity. But nature is in trouble.
The UK has become one of the most nature-depleted nations in the world and more than half of our species are in decline. 
Here in Staffordshire many species are being destroyed, including water vole, hazel dormouse, hedgehog and several invertebrate species such as the small heath butterfly and the native white-clawed crayfish. The suitable habitats we have for wildlife are often in poor condition and are disappearing.
These losses will continue to gather pace if we don't do things differently.
It doesn't have to be this way!
We need action
We know that people across our Staffordshire want and need nature to recover which is why we calling on Staffordshire candidates standing in the May local
elections to pledge their support to help save wildlife by backing our Wilder Staffordshire manifesto.  
Now is the time to act for a wilder future. 
Nature's recovery is the most important political and social issue of our time.
The next 10 years are critical. It has to be a time of renewal, of rewilding our lives. If we act now and together, we can put nature into recovery. We need at least 30% of Staffordshire to be connected and protected for nature by 2030
The momentum for change is growing rapidly. Governments around the world are declaring nature and climate emergencies; the environment is always in the news, increasingly on the agenda; and ever more people and groups join the climate strike movement, realising that they can no longer sit still.
It is not too late to bring wildlife back and to let it thrive again. 
We need a Nature Recovery Network.
For wildlife to recover, we better protections and a connected landscape and seascape, with space for nature to thrive. A Nature Recovery Network is vital for bringing our much-loved wildlife back. 
Right now, wildlife is too often forced into fewer and smaller pockets of space, surrounded by urban development or intensive agriculture. This is will only lead to further losses. Instead, we need more wild places, and for these to be joined up in a system across the county and nationally.
There are great examples underway already in the urban habitats of Stoke-on-Trent, the meres and mosses of Newcastle-under-Lyme, the species-rich grasslands of the Staffordshire Moorlands, the heathlands of South Staffordshire, Cannock and Lichfield, woodlands in East Staffordshire and floodplains of Stafford Borough and Tamworth. These are not enough on their own, works like these must be expanded.
That's why Staffordshire Wildlife Trust is calling on election candidates to back its #WilderFuture manifesto that identifies 5 key pledges that are crucial for bringing our much-loved wildlife back.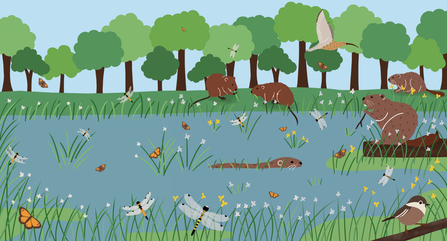 We are asking all local election candidates in Staffordshire to pledge to;
1) Champion a Nature Recovery Network - help us ensure 30% of Staffordshire land is connected and protected for nature's recovery by 2030 by providing resources and funding to deliver a Nature Recovery Network.
2) Prioritise local solutions to the global climate and nature crisis - drive investment in carbon capture in woodlands, wetland and peatlands and invest in nature-based solutions to climate challenges like flooding and pollution.
3) Back Natural Health and wellbeing - by supporting Green Prescribing programmes and wild wellbeing, and initiatives for young people, as well as ensuring everyone benefits from accessible local green spaces where nature thrives.
4) Ensure development that is good for people and for nature - by protecting valuable wild spaces from destruction and making sure all new housing, commercial and infrastructure developments improve biodiversity by creating more nature-rich places.
5) Support innovative approaches to boosting the green economy - by investing in training and job creation for the growing green economy, backing nature-based tourism, and rewilding depleted land.
If you are a local election candidate and want to pledge to support our manifesto,  please email l.penny@staffs-wildlife.org.uk so that we can add you to our list of local candidate manifesto supporters below
Our work is not enough - we need your help
We will be writing to all local candidates in April to ask them to pledge their support for the manifesto and wildlife in Staffordshire, with all responses featured on this webpage but in order to achieve a wilder future for Staffordshire we need everyone on board and your support is crucial to bringing out much-loved wildlife back. 
People and communities benefit from thriving, accessible nature on their doorsteps as part of a Natural Health Service. Reconnecting with wild, green places improves the wellbeing and resilience of all. Children and young people need to learn about and experience wildlife. Local residents should be
helped to stand up for nature on their doorsteps.
We need you to support wild wellbeing initiatives, local green spaces and opportunities for children to experience wildlife. We need you to help local residents to stand up for nature on their doorsteps.
This is why we are asking you to vote for wildlife in mind this election and to help us call on local election candidates to back our manifesto- see below for actions you can take to help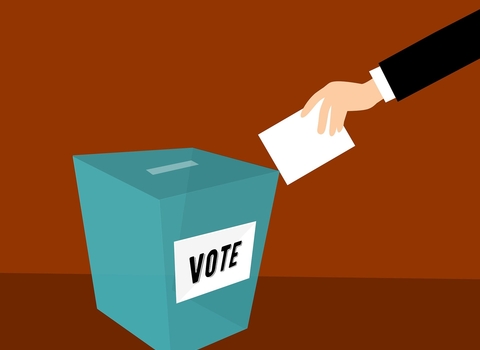 Give wildlife a voice this election
We are asking for your help to call on local election candidates to support our Wilder Staffordshire Manifesto and pledge for the need for a wilder future before it is too late.
You'll be able to find your local candidates standing in each constituency here and then you'll be able to contact them via email or letter and provide a link to this webpage where they can access our manifesto. Feel free to use text from our website to get your point across of why we need a wilder future for Staffordshire and the need to pledge to support our manifesto to ensure nature's recovery. Some candidates might not be available on email / post- if this is the case we are advising to contact them on Twitter, tweet the link to the manifesto and your message, and tag us in using @StaffsWildlife
Contact local candidates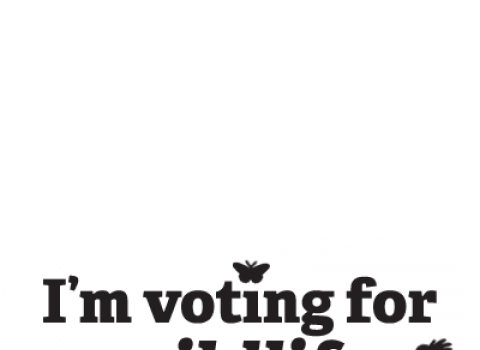 Tell the world that wildlife matters to my vote
Add a Twibbon to your Twitter and Facebook profile picture to show that you are voting with wildlife in mind this election and that you back our manifesto 
Add a Twibbon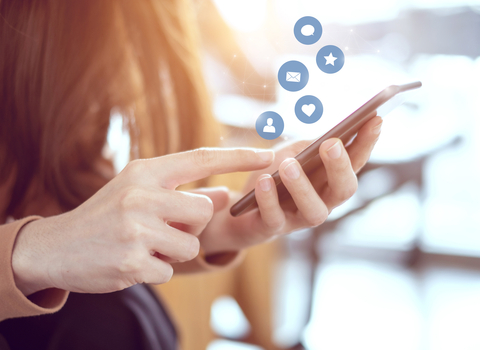 Spread the word
Another way you can help is to share our manifesto with your followers on social media - let people know that you are backing our manifesto and call on them to encourage local candidates to support it 
Example social media post; "I am voting for wildlife this local election and I back Staffordshire Wildlife Trust's Wilder Future Manifesto which you can read here https://www.staffs-wildlife.org.uk/manifesto2021 We need to save wildlife before it's too late #WilderFuter #naturesrecovery #voteforwildlife"
You can attach our Wilder Future graphic below to your social media post 
Wilder Future social media graphic
Support we've had so far
Below shows the support we have had so far from local candidates for our Wilder Staffordshire manifesto (click the images and scroll through to enlarge)