HS2 - stop and rethink!
Ecosystems permanently damaged. Irreplaceable habitats destroyed. Taxpayer's money spent on restoration wasted. Wildlife extinctions at a local level. This could be nature's fate if the current plans for HS2 continue. 
Ancient woodland, lakes, meadows and other important habitats are at risk from HS2 along with the wildlife that calls them home 2020 New report revealed
'What's the Damage' - launch of The Wildlife Trusts report
In the most comprehensive environmental assessment to date we can reveal the sheer scale of potential damage from HS2.  Our new 2020 report shows that the deep cut HS2 will make across the landscape could stop nature's recovery in its tracks. Species such as barn owls, badgers, water voles, willow tits, otters and many more are at risk. You can read a copy of the report below. 
The current approach to HS2 means that a Nature Recovery Network would be impossible; far away from the Wilder Future vision for the UK that we have been campaigning the need for since last year.
The potential damage from HS2 is too great  
As the costs to nature escalate, we're urging the Prime Minister Boris Johnson to use his power now to stop and rethink the HS2 project, or the scar may never heal.
On Tuesday 4th February 2020 representatives from The Wildlife Trusts including Kate Dewey, Staffordshire Wildlife Trust's Senior Planning Officer headed to Downing Street with a letter to the Prime Minister, signed by over 66,000 supporters from across the UK, asking him to Stop and Rethink HS2.  We were overwhelmed with the support from the public and look forward to the response from Downing Street. Thank you to all those who signed the letter. Nature need not pay the price for HS2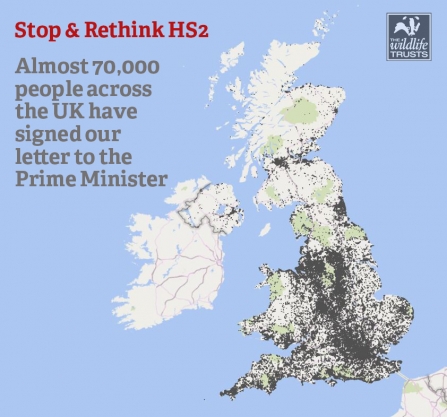 In Staffordshire we are set to lose 19 hectares of ancient woodland, as well as other irreplaceable habitats such as veteran trees, ancient hedges and water-meadows untouched for centuries. Even worse, some of these losses will be for temporary works such as construction access.

We know that at least 53 Local Wildlife Sites in Staffordshire will be affected, including very rare inland saltmarsh, and many more important habitats that could deserve local designation. Declining birds such as barn owl, lapwing and snipe will lose their homes".
HS2 and the environment 
Since the route was first announced in 2010, Wildlife Trusts have campaigned to defend wildlife and wild places at risk from the new High Speed train line, trying to secure the best possible outcome for wildlife. 
Early on in the planning stages of HS2, The Wildlife Trusts developed A Greener Vision for HS2. This report provides the large-scale thinking lacking from current HS2 Ltd plans and if considered would provide the net gain for wildlife so vital for allowing our natural world to recover, at a fraction of the total cost of the scheme.
HS2 Ltd has proposed a Green Corridor along the route, which we welcome. But this is far from adequate and can only be seen as a start to delivering the more ambitious vision we have set out.
HS2 Greener Vision Full Report
HS2 Greener Vision Summary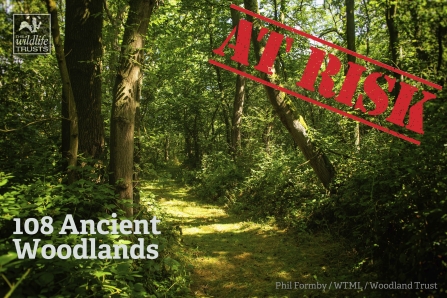 Hundreds of important habitats and special wild places are under threat from the government's proposed High Speed 2 (HS2) rail network. Ancient woodland, lakes, meadows and other important habitats are at risk. Yet, there has not been a Strategic Environmental Assessment and the compensation plans being put forward are not good enough.
The Government and HS2 Ltd acknowledge that the route can't be delivered without extreme harm to the natural environment. Furthermore, the deep cut and divisive scar the route will cause along the length of England's habitats pose a genuine barrier to the urgent action required to recover nature and restore landscapes. The current approach to HS2 means that a Nature Recovery Network would be impossible.
The potential damage is too great - especially while we are facing an ecological and climate emergency. 
We need HS2 Ltd to stop and rethink. 
How HS2 is affecting nature and Wildlife Trusts along the route
Current HS2 plans will;
make a nature recovery network impossible. Meaning all places across the county can't be connected and restored. 
lead to local species extinctions in more than one area
proposes serious risk to a number of protected sites
delivers net loss in biodiversity
offers inadequate compensation for damage and loss
The proposed route for HS2 will badly damage wild places along its route. Fourteen Wildlife Trusts have campaigned against the development which will devastate many of the wild places that they care for:
Phase 1: London; Hertfordshire & Middlesex; Berks, Bucks and Oxon; Beds, Cambs and Northants; Warwickshire; Birmingham and Black Country; and Staffordshire.
Phase 2: Staffordshire; Cheshire; Lancashire, Manchester and North Merseyside; Leicestershire and Rutland; Derbyshire; Nottinghamshire; Sheffield and Rotherham; and Yorkshire.
The draft Environmental Statement for Phase 2b alone references damage to:
12 highly protected areas for nature conservation (known as Sites of Special Scientific Interest (SSSI))
111 Local Wildlife Sites
19 ancient woodlands
These figures do not take into account damage caused in Phase 1 and 2a of the route - nor does it account for other wildlife-rich places without designation, so the real impact is much higher.
The launch of our report shows the damages to wildlife and wild places are unnecessarily
HS2 and Staffordshire 
Staffordshire is affected by Phase 1 and 2 HS2 routes. 
Irreplaceable habitats are being destroyed in Staffordshire by HS2 such as veteran trees, ancient hedges and water-meadows. Some of these losses will even be for temporary works such as construction access. 
Wildlife such as barn owl, lapwing and snipe are at risk. 
53 local wildlife sites will be affected, including very rare inland saltmarsh
19 hectares of ancient woodland is also at risk
10,000 acres of land destroyed
Examples of habitats at risk include; 
Whitmore Wood, a Local Wildlife Site (county importance) and ancient woodland near Newcastle-under-Lyme. HS2 would cut through the woodland. If this destruction goes ahead on the site, it would currently be the single biggest loss of woodland on the entire HS2 scheme with the loss of 5.5ha (around half of the wood). The wood could be saved via tunnelling, but this option has so far been dismissed on the grounds of cost. 
Bishton (north of) is a Local Wildlife Site covering approx 3km of species-rich hedges lining Bishton Lane, A temporary access route is proposed to remove at least half of the hedgerows to widen the lane. 
Finner's Hill hedgerows and Moor Lane, Colton on Newlands Lane and Moor Lane in Stockwell Heath are potentially ancient species-rich hedges which will be lost by temporary road widening and HS2 cutting directly through them.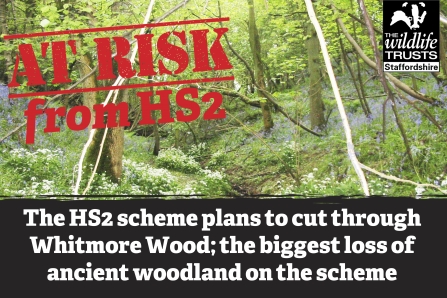 HS2 gets the green light
On the 11 February Boris Johnson gave HS2 the green light after a period of delays and discussions around its future and the Oakervee Review report was published. The report was written by Douglas Oakervee who chaired an independent review of HS2. The report was given as evidence to the Prime Minister, the Secretary of State of Transport and the government for them to make a decision regarding the future of all phases of HS2. 
You can see our feedback on the report below:
Adverse impacts to biodiversity have not been included in the benefit-cost ratio.
The environmental impacts have been dismissed as unavoidable or able to be mitigated, while urging HS2 to be an exemplar project, achieving no net biodiversity loss and avoiding environmental impacts by design. No net loss cannot be achieved whilst losing irreplaceable habitats, and mitigation starts with avoidance.
We are disappointed that the review leaves out loss of wildlife from the benefit-cost ratio, and dismisses many impacts as 'unavoidable', or mitigated by tree planting. Far from being an 'exemplar project', the loss of irreplaceable habitats means HS2 cannot ever balance its impacts to wildlife; the cost to nature is too great.

The first priority must be avoidance through design, and this is where the review could make a difference. It recommends that speed not be the primary driver for the railway, and that better transport links and design changes could optimise benefits and reduce costs, such as removing the Handsacre connection to the West Coast Mainline, near Lichfield. This is an opportunity to re-think the route, and avoid our most precious wildlife areas. We urge HS2 to re-design HS2 to be truly sustainable, so that our unique local wildlife does not pay the price."

Staffordshire Wildlife Trust
How you can help 
- Become a member and support Staffordshire Wildlife Trust's campaign work against HS2 
- Join The Wildlife Trust's campaign for a Wilder Future and help to protect Staffordshire's precious wildlife and wild places