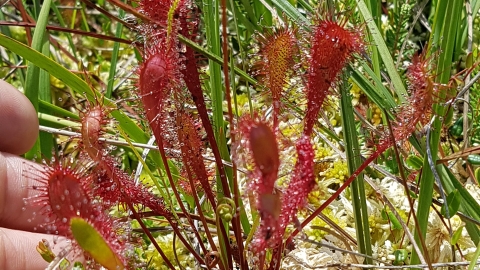 Sundew Stroll
Location:
Gentleshaw Common
Rugeley
Staffordshire
WS15 4NG (nearest)
*Located between Gentleshaw and Burntwood,
Rugeley,
WS15 4NG (nearest)
Join Hayley our Gentleshaw warden for a stroll across this wonderful haven for wildlife. Explore the lowland heathland and learn about the creatures that live in this rare habitat. Listen to the various heathland birds and possibly even spot a kestrel searching for prey to feed its young. Take a look at the solitary bees and wasps in the quarry and learn about their bizarre life-cycles.
On the way round we'll take a look at some of the management techniques that are involved with looking after Gentleshaw Common. The grand finale and gem of Gentleshaw, is going to look at the very rare Sundews in the valley mire.
Booking
Price
£5.00 per person
Additional booking information
Unsuitable for pushchairs and small children due to the rough terrain.
Suitable for
Adults
Know before you go
Dogs
Dogs must be kept under close control from March-August to avoid disturbing ground nesting birds
Wheelchair access
Rough terrain - not suitable for wheelchair access
What to bring
Sturdy footwear / suitable clothing