It's not too late to bring our wildlife back
Join the Wilder Future campaign and help write a better future for wildlife.
Sadly, since the story of Badger, Ratty, and friends was written in 1908, the UK has become one of the most nature-depleted countries in the world. The newly released State of Nature 2019 report shows that one in seven UK species are at risk of extinction today. 
The Wildlife Trusts have re-imagined what The Wind in the Willows would look like in 2019, in our animated The wind in the Willow's trailer, and it's not a happy story.  The trailer highlights just some of the problems our wildlife faces everyday. But this doesn't have to have an unhappy ending. We've reached a point where our wildlife is in critical condition and needs our help to put it into recovery.
It's not too late to bring our wildlife back, but we must act now. Join our Wilder Future campaign and receive simple actions you can take for nature's recovery. 
We are calling for a Nature Recovery Network to be set within in a strong Environment Act, where wildlife and wild places are not only protected they're also restored and connected as part of the law. 
Badger, Ratty, Mole and Toad
Watch our favourite characters as they begin their search for a wilder futre
David Attenborough explains a Nature Recovery Network
Since Kenneth Grahame wrote Wind in the Willows, just over a hundred years ago, too many of the UK's wild places and the plants and animals that depend on them have been lost forever.
97% of lowland meadows and the beautiful wildflowers, insects, mammals and birds that they supported have disappeared. 80% of our beautiful purple heathlands have vanished. 
The water vole, as depicted in Kenneth Grahame's 'Ratty', is the UK's most rapidly declining mammal, lost from 94% of places where they were once prevalent, and their situation is worsening. Even Mister Toad is finding that times are very tough: nearly 70% of toads have vanished since the 1980s alone. 
Help us make the next chapter for wildlife a safer, healthier and happier one, where nature is in recovery, not in danger.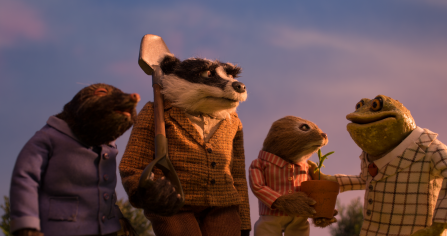 A bit more about the Wilder Future campaign 
Our fantastic new animated The Wind in the Willows trailer aims to inspire more and more people to get involved in supporting and creating a #WilderFuture. 
Nature needs new laws that will not only protect it but will also help to restore green spaces and wild places that is why we are calling on the government to put in place a strong Environment Act that will keep nature safe and allow it to flourish.
At the heart of a strong Environment Act, the Wilder Future campaign is calling for the creation of Nature Recovery Networks to better protect and join-up important places for wildlife allowing it to move freely and flourish. In England, the campaign is calling for the Government's upcoming Environment Bill to include measures to drive the creation of these Nature Recovery Networks. Due to the devolved nature of environmental issues we are also campaigning for a separate Environment Bill in Scotland while in Wales we are asking for a Sustainable Land Management Bill. 
Nature Recovery Networks will protect existing wildlife sites and map out where wildlife ought to be, joining up important places for wildlife, while ensuring more people can live closer to nature. We have a vision for a connected nature highway across the whole of the UK. 
We want a Nature Recovery Network enshrined in law to:
Set targets for environmental improvement and nature's recovery;
Make sure we map where wild places and wildlife are, and where they should be;
Require plans to be produced to integrate national and local regulation, spending, investment and action.
The Wilder Future campaign is about advocating for political change as well as asking people to take small 'personal' actions where they live to help wildlife. The idea is that these individual actions add up to something much bigger across the country. 
Take Action for Insects
A new report shows the devastating decline in insect populations and the long-term effects this will have on wildlife and people. But they can recover if we just give them a chance. Take the pledge to stop killing insects by reducing harmful pesticides at home and at work, and start to create healthy homes for our precious bugs and bees and help create a Wilder Future.